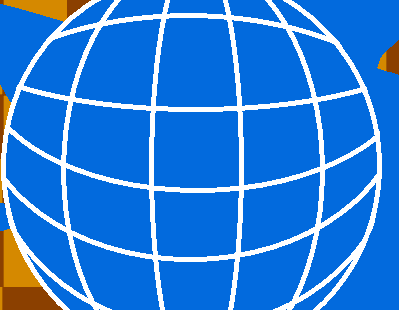 Hedgehog Day Fan Event News!
Greetings fellow Sonic fans around the world! Happy Hedgehog Day (it's still Feb 2 in a few time zones as of posting this so I didn't miss it entirely!)!
While I let some of the news slip in various circles, I've made sure to keep a lid on a lot of things to make this Hedgehog Day extra special. I've been excited to reveal a fair bit of news today, so here it goes!
First off, let's talk about Sonic Revolution, as in the organization. We are proud to report we have formally affiliated with Sonic the Comic – Online and Fans United for SatAM! We are also in talks with affiliation with two other Sonic fan sites. When I originally thought of looking for affiliates, FUS and STCO popped out first – through their hard work and dedication, they have made the desires of their particular fanbases a reality. This is much in line with Sonic Revolution's goals; though they may focus on animation and comics (respectively) whereas we focus on conventions, we are all ultimately working for the cause of fan empowerment, and it's an honor to be associated with both. We hope to see more affiliates in the future; it would be a blast if the Sonic fanbase was united.
Secondly, great news for those living in Latin America and the Iberian peninsula! Other fans have formed groups similar to Sonic Revolution in Portuguese and Spanish. While these are NOT part of the Sonic Revolution organization, they operate under the same name in their respective languages and have the same goals; we give them our full support, naturally. If you speak either of the two languages, feel free to give them a look. There's a vibrant community in Brazil via Planeta Sonic for one example, so we are certain that events could be brought to the whole of the Ibero-American countries. Sonic Revolution is also interested in having bilingual contacts who are able to speak Spanish and Portuguese, who can keep track of these groups' events and pass the news onto us.
Thirdly, more Sonic fan events! There's a new one scheduled for No Brand Con later this year on April 25th in Eau Claire, Wisconsin. It is of course, hosted by Sonic Wisconsin, and here is the event page! They will be meeting in the Plaza Hotel and Suites' lobby at 2 PM.
Weston Super Sonic, meanwhile, has announced plans for a Bristol meet this month and a Taunton meet next month. More details as they come, though Claire has welcomed comments on the best times and dates for people to try and maximize turnout. They also had a meetup a few hours ago (as mentioned above), so let it be known they're most definitely bringing the regular meetup scene to the southwestern UK! Weston Super Sonic has also announced that it will be hosting a craft contest at next year's event, giving you close to year to prepare – a "craft" is any piece of work that does not count as a costume or artwork.
Fourth, something I've been excited to reveal for a good month or so. While Sonic Revolution 2014's date and location are not yet finalized (we'll have them very soon, don't worry)… we can at least tell you about a special surprise we have planned.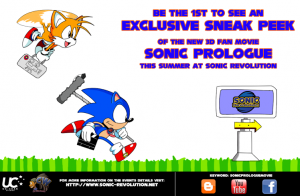 It is my honor to reveal that we have partnered with animator Christopher Wilcots and director and writer Doryan Nelson, the team behind the upcoming Sonic Prologue fan film. We felt that as a fan event it was only proper we give the ability to showcase work to promising projects, and Sonic Prologue most certainly fits the bill! The film will sadly not be finished in full by the time of Revolution, but we will be showcasing a scene from the film via projector screen; this scene will be a Revolution exclusive.
There is plenty more goodies prepared for Sonic Revolution 2014. However, it'd be no fun if we revealed them all at once, now would it? Stay tuned for more event date and details as they come.