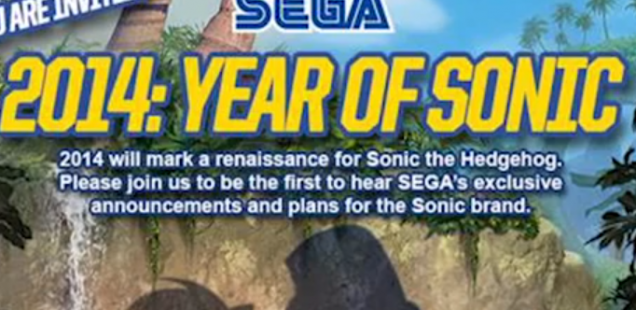 "Year of Sonic" Event to Be Held Tomorrow
Earlier this morning it broke that several SEGA staff, from community team members such as Aaron Webber to game producers, had all made a flight into New York City based on their social media. The exact reasons they were there resulted in speculation abound, but it looks like we have finally found out.
In a recent video by Machinima (which has since been taken down, likely due to being a leak), a copy of a flyer was displayed that indicates there will be a special event for the press in New York City on February 8th from 12 PM to 3 PM discussing Sonic's future. SEGA hails 2014 as the "Year of Sonic" and promises it will be a "Renaissance" for the franchise.
What's notable is the poster says all information and photos are under embargo until after the event; that is, they can't be shown until it is over. The good news is this means we can very likely look forward to some sort of news tomorrow, thanks to this event being leaked by one of the individuals who were invited.
Here is a screencap of the flyer from the original video.
There's no telling what will be at this event, but we can presume that it must be something big if SEGA is bold enough to talk of a "renaissance" and was even trying to keep it a secret.