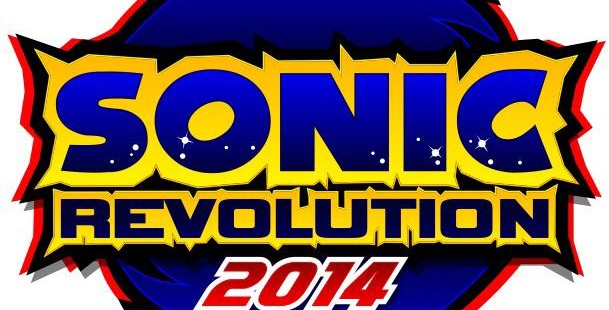 Sonic Revolution 2014 – Recap
Hello Sonic fans from around the world! The first formal, fan-run Sonic the Hedgehog convention in the United States concluded two weeks ago. Sonic Revolution 2014 ran from 10 AM to 6 PM on June 15th in Buena Park, California, but we're hopeful the memories of the day will linger for quite some time in all of those who joined us!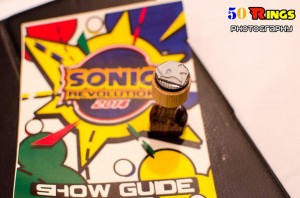 Upon entering the Marquis Room, attendees had their hands stamped with a special Sonic stamp so that they could come and go as they pleased… few people could go the full 8 hours without food, after all!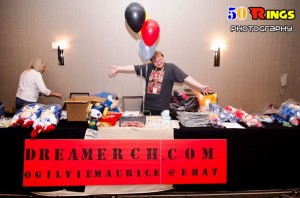 The first stop for many attending the con was the Sonic merchandise booth, run by yours truly (I'm the round geek with his arm outstretched).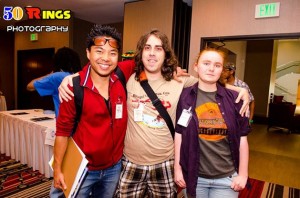 Attendees could then visit our artist alley, which while small, included Archie comics artist Evan Stanley and prominent fan artist Elson "Darkspeeds" Wong!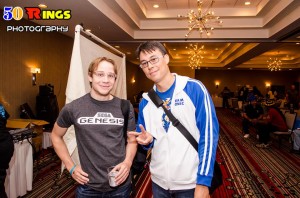 Perhaps one of the biggest surprises one could find on the floor were (sadly having retired a few days ago) SEGA America brand manager Aaron Webber and Sonic Boom producer Stephen Frost! They attended as regular attendees, but were nonetheless kind enough to not only give us E3-exclusive tote bags to use as prizes, but do a short 30-minute panel where you could ask them practically any question about them or their work. Rather than come straight from E3 a few days earlier, they actually had flown back to San Francisco already, but came back down to Southern California just for the day!
Various events ran throughout the day, such as a costume contest, art contest, concert, and a discussion of video game music with Tommy Tallarico of Video Games Live.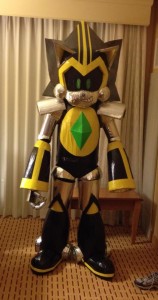 First place in the costume contest went to this awesome Shard (from the Archie Sonic comic series) costume!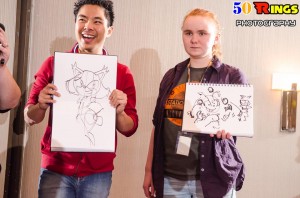 The art contest only had one entry, so we arranged for Elson Wong and Evan Stanley to have an art off. They were given one minute to draw Sticks the Badger auditioning for Sonic Boom; the topic was chosen by the audience.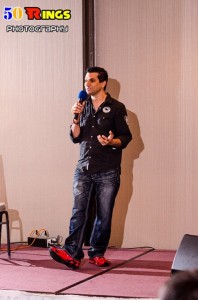 Tommy Tallarico was a special guest, swinging by for a few hours so that he could discuss his work with Sonic the Hedgehog music as well as video games in general. Tommy left us with a parting gift, such as the sheet music for the Sonic the Hedgehog medley from VGL to give away as a prize!
Serenity Seven gave a rocking performance with songs from not only Crush 40, but also other musicians such as Tony Harnell! They even slipped in one piece of Sonic Underground music. That's what I call being thorough!
We managed to get animator Chris Wilcots of the Sonic Prologue fanfilm as one of our special guests. He presented a clip from the upcoming film exclusive to the convention, detailing how Sonic Prologue is unique among fan films for being based on the stories in the manuals, rather than the plot of the games themselves.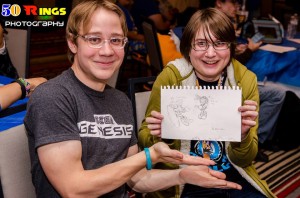 During the panel, Stephen Frost had mentioned a game where Tails would discover he was deathly allergic to bees… and yet, Charmy would desire to become close friends with Tails. Player 1 would thus need to run through the whole game avoiding Player 2. Looks like someone was nice enough to sketch the image!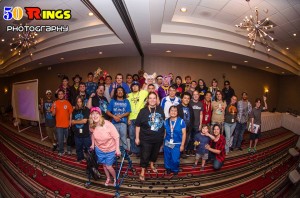 All good things eventually had to come to an end, however… but we made sure to get everyone who was there at closing in one big group photo!
You can see the full album here!
Plans for the coming years are not yet finalized, but you can rest assured I will inform anyone of any developments. We hope to see you at one of our or our affiliates' events in the future!